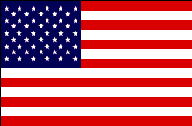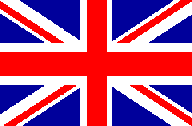 Golden State British Brass Band
---

Who We Are
The Golden State British Brass Band, a non-profit, community organization, was founded in 1996 by Penny Dodd and Norm & Linda Taylor, and endeavors to rehearse, perform, and record music written and arranged in the traditional British Brass Band style. The band attracts its membership from all over the greater Los Angeles, California, USA region.
Here is a list of our musicians. We also have a photo album. Our history is summarized on this page.
What We Do
The band normally rehearses on the second and fourth Sundays of each month, and performs at various venues 8-10 times annually. See the schedule page for more details, times, and directions.
Upcoming Performances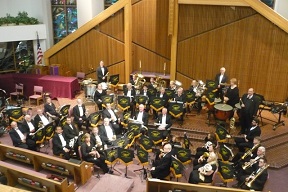 Monday, June 29, 2015

6:15 PM concert at the Fullerton Arboretum, Fullerton.

Sunday, August 23, 2015

6:00 PM concert at Ganesha Park, Pomona

Sunday, September 6, 2015

2:00 PM concert at Nixon Library, Yorba Linda

Saturday, December 12, 2015

2:30 PM performance of Christmas Carols at the Rose Tree Cottage, Pasadena

Sunday, December 13, 2015

4:30 PM concert at the Episcopal Church of St. Andrew, Fullerton
Our performance history, complete with programs, is listed on our events page, for the curious.
Clifton & Lightcliffe Band Visit 2010
Schedule and Other Info for Band Members...
For More Info/Demo Tape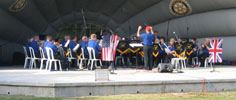 For further information about GSBBB please write or call:
Golden State British Brass Band
2070 E. Cienega Ave.
Covina, CA 91724
(626) 339-2414 or send email to Norm & Linda Taylor. A demo CD is also available - contact us.
Listen to Us
Other Links of Interest...
...have been moved to their own page now.
Tax Number
Contributions to the band (including dues, etc.) can be deducted from your federal and California income. Our (IRS and FTB) non-profit organization ID number is 95-4601145.
---
This page maintained by Brad Dooley. Send me mail at bdooley@alumni.rice.edu.
Last modified November 30, 2015.